Prior to the actual enamel application, metal substrates need to be prepared in accordance with the process requirements.

There are in principle three metal preparation methods available for enameling plants :

1) Chemical pretreatment with pickling for rusted products and/or direct-on applications of light colors.

2) Mechanical & alkaline cleaning with a spray-washer

Full chemical pretreatment is typically done with a large number of immersion tanks, which typically contain solutions of alkaline degreaser, sulphuric or hydrochloric acid, (eventually nickel sulphate) and neutralizer.

Products are generally placed in stainless steel baskets and transported from one tank to the next tank either manually with overhead cranes (See picture below) or with PLC controlled robots.

Environmental legislation requires the installation of waste water treatment equipment and forced abstraction of the vapors.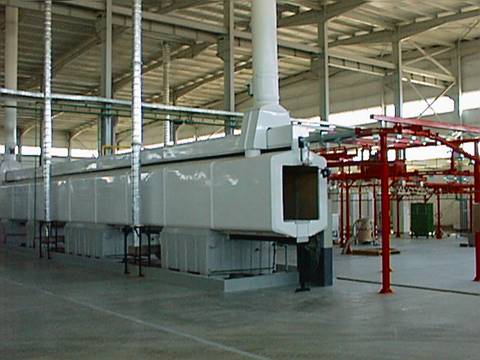 3 or 4 stage spray-washers (As shown on the above picture) are used typically used for degreasing flat products, such as cooker parts, which are not rusted.
The mechanical action of the spray nozzles helps to reduce the overall cycle time of the cleaning process.
More over the spray-washer & powder coating both may share the same shopfloor conveyor and thus eliminating labor for transfer the products transfer from the pretreatment to the application process.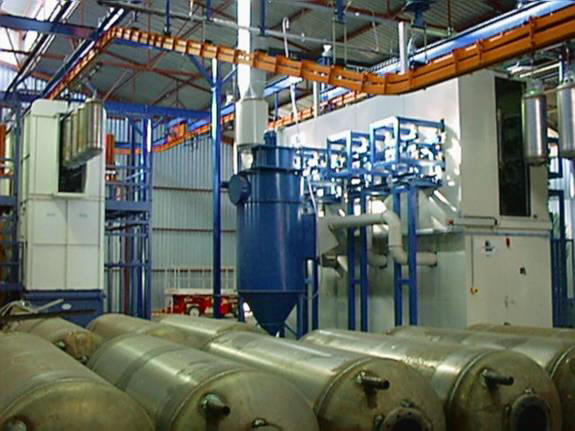 Shotblasting (as shown above) is a closed loop process which generates hardly any environmental waste.
However, it requires a considerable amount of compressed air and is only suitable for pretreatment of products made of thick steel sheet, such as burner grates, boilers, silo panels, water storage tanks.
Related pages :
Tags : enamel, enameling, pretreatment, metal preparation, metal cleaning, pickling, shotblasting